Meet the woman who just f***ing did it!
And maybe get some inspiration for yourself...
There's no better way to learn than from others' stories and experiences. And the story we bring you today is a special one - Maree Suteja, a teacher-turned-entrepreneur who built the Insta-famous Crate Café empire in Canggu from nothing and with no prior experience. Prepare yourself for some awesome learnings, not just for  setting up a business, but for life and in the process, learn more about Bali from the 70s until now! 
Fresh from Bondi, Australia, former sponsored surfer Maree Suteja arrived in Bali in 1978 with a simple dream: to ride the perfect waves, inspired by watching 'Morning of the Earth'. Then, a 3-week trip turned into 3 months and, 41 years later, she calls Canggu home - and the dream evolved too. 
Not afraid to take a leap of faith and just start with small steps, she set up the Instagram-famous Crate Café in 2014 and kickass skate bowl Pretty Poison in 2015, both with a special vibe that really brings together locals and visitors alike.
It's easy to see how Maree's love of people influenced this - and she's enriched the lives of so many that she's come into contact with! We were lucky enough to be among those people and get to hear her story about how she just f***ing did it - her biggest advice to others.
The Bali Diaries
When she arrived in Bali in the 70s, things were very different. There was little to no electricity or running water, a handful of eating places and no hotels, but also, a huge sense of freedom. Of everything being possible and everyone coming together, foreigners and locals, surfing and exploring the island, which for the most part was miles and miles of just palm trees and rice fields. She started living in now-super-hip-Canggu because the rent was cheap and it was known for its left, middle and right breaks. She was simply following her passion for surfing and sense of adventure and the rest slowly fell into place.
That's something we can all learn from - just follow your passion and the rest will come naturally.
Fast-forward a couple of years and Bali is a tourist mecca, with surfers chasing some of the best waves in the world and travellers finding paradise on the beach, vast green rice fields, yoga retreats and countless healthy eating places.
For Maree, the biggest transformation in the past 5 years has happened in Canggu, as it turned from essentially "a little village, to being put on the world map as a city".
 Crate and Pretty Poison have a special place in the ecosystem, though. At Pretty Poison, skating connects people from all walks of life and there's a huge amount of respect between skaters. Both among the few places in Bali where you can see an awesome mix of expats and locals, Maree is proud of the community built around them and says it reminds her of Bali back in the day. 
And there's a lot of pride the locals have in "their Canggu", too - that's why one of the internal struggles Maree had when setting up was whether the community, made up of locals and expats, was going to accept her and her new venture. Safe to say, they fully embraced it and she definitely doesn't take the support for granted, staying incredibly humble about being able to set up her business in a foreign land, which she now calls home: "We're all travellers here, we're all guests and the Balinese are graciously allowing us to manifest our dream".
This one goes for all of us: don't take anything for granted, stay humble.
From setting up with no money to going viral
Starting your own business is no easy feat. It requires courage, grit like no other and a whole lot of hustling. Starting your own café without any money to invest, when no roasters will give you any coffee beans without a minimum order? Well, that's practically impossible. But that's just how Maree rolls. 
The beginning is always the hardest - and seemingly small challenges seem huge. But you just need to start somewhere.
And that's exactly what she did. Even though she "didn't have a clue about running a business", one thing she knew for sure: she loved people, she loved coffee and she loved food. So, she thought to herself "as long as I can combine the 3, I'll be alright". 
Passion is the foundation of success.
She didn't build anything to support her lifestyle or to become wealthy. Her idea stemmed from some of her biggest passions so she took baby steps to build her vision. She borrowed the money to get going, then step by step, she spent 2 months with the coffee roaster, testing everything, working through logistical headaches and designed every detail of Crate to perfection. From the best coffee in Bali, to the open-air atmosphere and the food that she so loves. Because "everyone can make a bacon and eggs", but making it so that "every photo you look at, you know it's a Crate bacon and egg" is a whole different story.
Once you have something good, make sure it stays that way. The key is consistency.
As her vision came to life, she made sure it stayed awesome. Consistency is something she lives by - from serving a salad the same way every single time at Crate to her day to day routine and switching off at the end of the day through boxing and time to herself, which a lot of entrepreneurs struggle with.  
"Just put it out. Make it good, make it real good. If you keep making it good, they'll keep coming back"
And how the people kept and keep coming back! The word spread like wildfire after Sahara Ray posted a photo with the Crate wall as backdrop, which blew up online and went viral. From then on, travel bloggers would drop by unannounced all the time, which meant there was no time to prep or change anything - everything they photographed and wrote about the food was real. Because it was consistently awesome.
Now, travel blogs have given way to Instagram, which is how the majority of people discover Crate - which for Maree, "goes hand in hand with word of mouth", seeing something on Instagram and then tagging, sharing with a friend and spreading the word. She takes the time to like, comment on or re-share people's photos because "it's good to acknowledge that people have taken the time to take a photo of your food". 
Always appreciate your customers and their feedback. Don't rest once you think you've made it.
And her social media game on point shows through the recognition, as Crate has more than 49k followers, no small feat for what started out as a café and now also includes a lounge, shop and a wine business!
It's all about the people
But then again, Crate isn't just a café - "it's an international hub, a meeting place for creative ideas and people traveling through Bali". And bringing people together is what Maree does best - two young people that she got to sit next to each other recently came in to tell her they were getting married!
In our time together, every time she spoke about the community, her eyes lit up with joy and the energy and passion for it came through every pore. This is when you know you're talking with someone who does what they do out of love and not as a means to an end - which we find the most inspiring.
And she remembers a magical moment of thinking to herself "I can't believe what I've created" while looking at the café from her upstairs office, seeing everyone looking happy, the whole place vibing and just then, a German customer coming over to say "this is amazing, I love it, thank you for doing it for us" - she felt overwhelmed with emotion.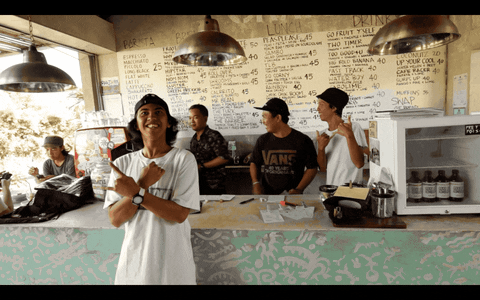 Getting inspired by people is key to Maree. She loves being at Crate every day, not because she has to manage it (realistically, it now runs itself thanks to her amazing team!), but because she loves being with people, getting ideas and bouncing off them. And it's through this that she's been constantly able to bring everyone together, from staff to suppliers and customers.
And it's also through accepting others' ideas and being inspired by people that Pretty Poison came to life in 2015. Once Crate took off, Maree would host monthly creative nights for anyone in the community to exhibit their artistic work. The creative nights fans and her friends told her she should open a warehouse bar to promote the night regularly, which was at the back of her mind for a while. 
Until, one rainy day, she watched 'The Lords of Dogtown' and was inspired to recreate the backyard pool skated by the Zephyr team in the 70s. In homage to the early years of pool skating, she began researching everything about the dogtown era, how the Zephyr boys skated, dressed and talked reliving her youth in the process, skating in the Eastern suburbs of Sydney. 
The only problem? Nobody in Bali knew how to build a skate pool that steep and they were all concerned it'd be too hard to skate. Maree wasn't concerned at all, though, she told them: "This is Dogtown. I don't want the average person skating it". So she made it happen with her team.
She just started somewhere, didn't sweat the small stuff and just went for it. Now, the backyard California-style bar mixes drinks, skating and lots of amazing people. The whole action revolves around the skate pool and it's not difficult to see why.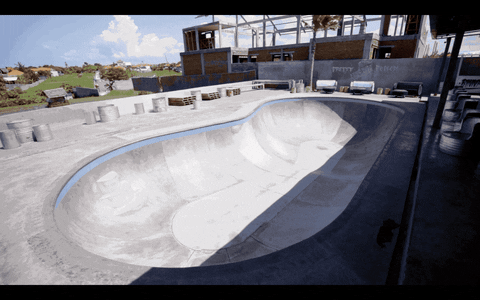 But, to get inspired by others ideas that lead to awesome things and accept them, you have to be a great listener with a great dose of empathy and emotional intelligence. For Maree, it's not all about what she thinks - she spends time with her team, asking them for their opinion, doing visual merchandising together and "encouraging them and empowering them". Her amazing attitude towards her team and leadership style are evident throughout everything she says and does: "Embrace the people, because at the end of the day, your business is going to survive or not survive, because of them".
Reinvent, innovate and do it fast
Reinvention is one of the keys to her success - and she says it "doesn't have to be anything revolutionary" like opening a whole new bar. For her, it could be as simple as re-plating a dish that hasn't been doing as well, rather than taking it off the menu completely. 
And it's these small changes that lead to big differences.
Also, implementing the small changes fast.
Compared to when she started out, which gave her anxiety, with the whole team they now "don't muck about, we don't sit around for hours discussing". Once the inspiration hits, they'll test new things from as early as the next day, assess the results and repeat the process as they get inspired by new photos, designs or people around.
And the same is true when things go wrong. Because sh*t always happens. "If a fridge breaks, just buy a new one or use one from your home if you need it right away". So, don't sit around wallowing, just get it done.
Feeling inspired yet?
Being kind to others, being truly interested in people and their stories, reinventing with small changes and keeping it all consistent aren't just things that entrepreneurs or aspiring entrepreneurs can learn from - it's every day stuff! 
And at Awesome Maps, we live for stories like these. When we made our first map 10 years ago, our feelings weren't too different from Maree's. But we had to make maps awesome again - so we dreamt big and started small, started somewhere, just like Maree. We hope that our maps inspire everyone to start your own adventures, whether through trips with memories that will last a lifetime or living somewhere else, for a while or for good - all can be life changing.
So, we want to know - what's your ultimate dream & (how) are you working to achieve it?
Please note: By commenting, you agree to future communications from Awesome Maps, which you can choose to unsubscribe from at any time.
---